About School Chaplaincy
Chaplains provide social, emotional and spiritual support to school communities. They are in the prevention and support business; helping students find a better way to deal with life issues. They provide a listening ear and a caring presence in the school, available for all students, staff and families.
Scripture Union Queensland (SU QLD) and School Chaplaincy ACT (SC ACT) Chaplains model the compassion and unconditional love demonstrated and taught by Jesus, as recorded in the Bible.  A Chaplain will therefore be a person whose beliefs and lifestyle reflect a Biblical understanding of and a commitment to the teachings, life and person of Jesus Christ. While exercising their role from within this framework, SU QLD/ SC ACT Chaplains will be sensitive to, respectful of, and available to all regardless of beliefs or religious affiliations.
Chaplains support the school community in six key dimensions, which we call the Chaplaincy model of care: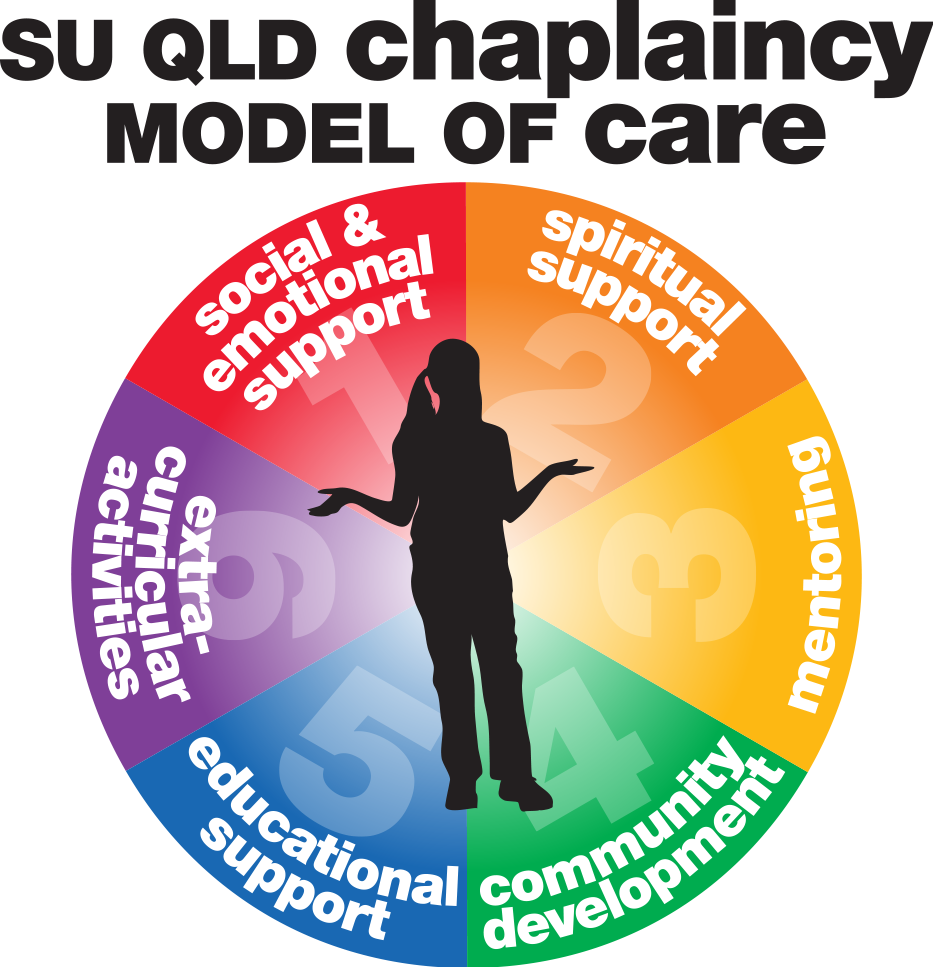 Assist students to develop knowledge, understanding and skills that support learning, positive behavior and constructive social relationships through social skills programs.

Provide an additional dimension to the school's care, guidance and support of student's with spiritual and/ or religious needs.

Act as a role model for students and assist them to develop supportive relationships for, with, and among students.

Enhance the links between the school and its community, working with school-based support staff, community-based youth organisations, Churches and other networks to support students.

Assist with classroom activities where involvement by the chaplain provides further social, emotional or spiritual support for those students who may be at risk of disengagement.

Participate in general school activities including camps, excursions, sports day or coaching team sports.
 Chaplains are also expected to play an active role in the LCC, working to develop the Chaplaincy service and making a positive contribution to the work of SU QLD or SC ACT in the district.


Chaplaincy: A Community partnership

The strength of our Chaplaincy program is the way it operates in partnership between the school, the local community (represented by a Local Chaplaincy Committee) and SU QLD/SC ACT.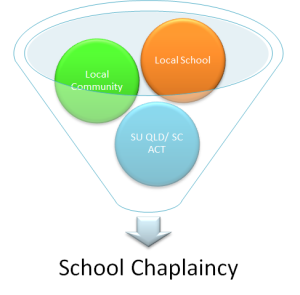 Chaplains are:
Employed and professionally supported by SU QLD/ SC ACT;
 Work under the day to day direction of the school principal, in accordance with DET / ACT Department of Education Chaplaincy guidelines; and
Supported, guided and resourced by the Local Chaplaincy Committee (LCC).
Applying to be a School Chaplain in QLD and ACT
Download, read and consider the full Chaplaincy Role Statement of an SU QLD/ SC ACT Chaplain.
Apply online here at any time.
Applicants will receive an online notification that your application has been received. Please use the 'contact us' tab if you have not received a lodgement response within 24 hours of lodgement.
Applications are assessed once they are submitted. Qualification Checks & Blue Card checks as well as referee checks are all conducted. It is imperative for these docs to be uploaded to move to the next stage of the application process.

There is significant need for Chaplains in rural and remote communities of Queensland. We would urge you to give serious consideration to applying for a position in these areas. The Department of Education may offer a waiver for rural remote positions, so that chaplain could study the minimum qualifications while they work.
Chaplaincy Positions are now available. See the current vacancies
here